Barnesville is home to many attractions year-round. We are notably most known for the annual Barnesville Pumpkin Festival which takes place the last full weekend of September. We are home to the Belmont County Victorian Mansion, Watt Center for History and the Arts, the Barnesville Baltimore & Ohio Railroad Depot, Veterans Plaza and Overlook, the Barnesville Memorial Park, Stillwater Meeting House, and the Dickinson Cattle Company. Updates and changes to listings can be done by contacting the webmaster on the contact page.

Barnesville Pumpkin Festival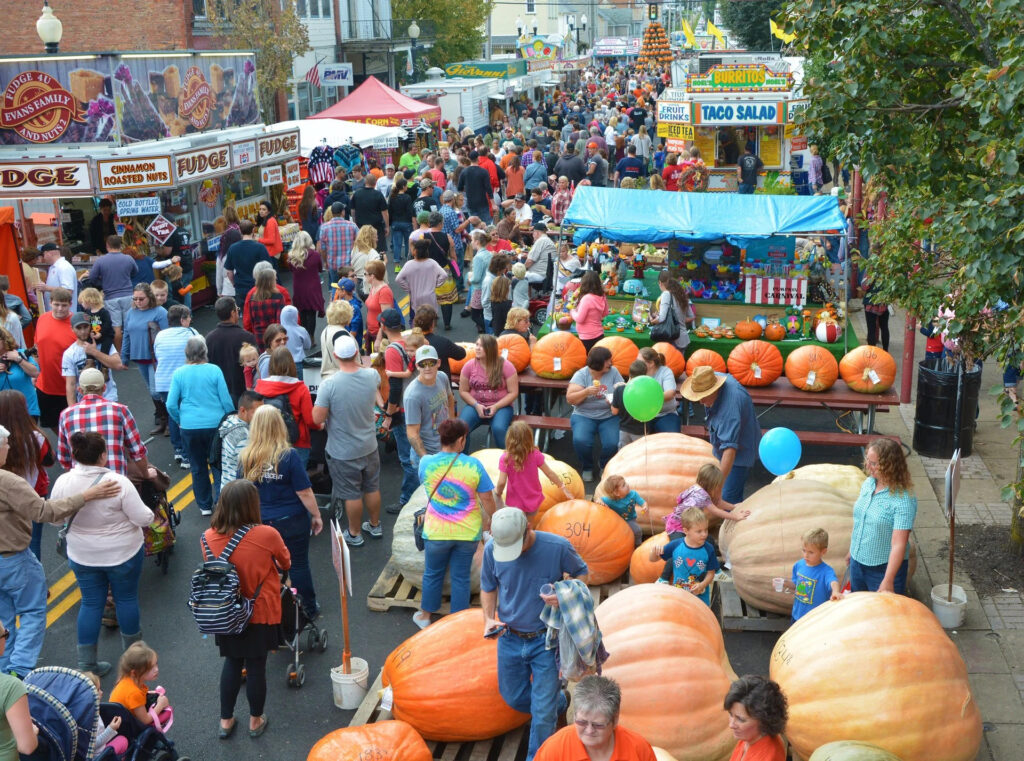 Always held during the last full weekend in September in the downtown area, the Festival includes four days of fun-filled contests, entertainment, tastes, sights and sounds. Both adults and children will enjoy harvest-inspired arts and crafts, home-style foods, entertainment on two stages, a giant weigh-in of champion pumpkins, lots of fun contests and the Giant Pumpkin Festival Parade on Saturday. There is plenty to see and do and, best of all, admission is free.
Festival Highlights: Antique & Classic Car Show, Craft Displays, Farm Machinery, Hog Calling, Quilts, Food, Live Music, Crafts, Tall Tales, Family Fun, and Much more.
Belmont County Victorian Mansion Museum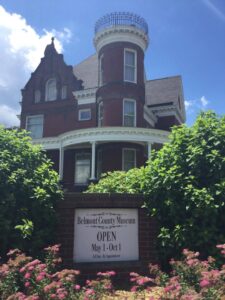 Award winning and built in the 1800's is this 26-room mansion of elegance. Superbly carved oak fretwork, butternut and hand-carved wood mantels are just a few of the finely crafted features inside. Open May–Sept., Wed.– Sun., 1–4:00 or by appointment all year. Guided tours. Admission; group rates.
Address: 532 N. Chestnut St., Barnesville, OH
Phone: 740-425-2926
Official Website
Watt Center for History and the Arts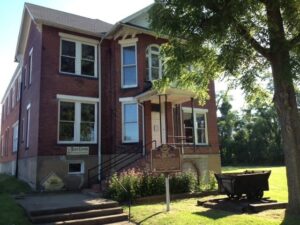 The original office building of the Watt Car and Wheel Company now contains exhibits about coal history and area business, industry and agriculture. Includes old steam whistle formerly used to signal the weather for the local community. Open by appointment.
The Watt Car and Wheel Company was founded in 1862 as the Joseph Watt and Son foundry. The business progressed from the molding of small cast irons and heat stoves to inventing the self-oiling coal car wheel. The company grew from a staff of the four Watt brothers to more than 135 employees by 1901. In addition to adding employees, new foundries and office buildings were erected to fit the needs of increasing trade demands.
In February 1966, the company was sold to Alfred and Arno Pass of Westphalia, Germany. The company began fabricating equipment used in the longwall mining process. In 1996, the company moved to Washington, Pa., and closed its doors in Barnesville. The village of Barnesville later bought the buildings and acres of land for one dollar.
The Watt Car and Wheel Company is one of many sites around the state receiving Historical Markers from the Ohio Bicentennial Commission's Longaberger Legacy Initiative and the Ohio Historical Society. The Ohio Historical Marker program began in 1953 for the state's sesquicentennial.
Address: 511 N. Chestnut St., Barnesville, OH
Phone: 740-425-1497 Jean Davies or Mary Sidwell: 740-425-2655 ext. 204
Barnesville Baltimore & Ohio Railroad Depot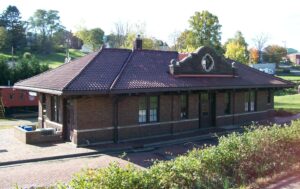 Last remaining train station in Belmont County. Features depot/train station, memorabilia, B&O Caboose, and just down the path from the station is the Railroad Tunnel.
Address: 300 E Church St, Barnesville, OH
Veterans Plaza and Overlook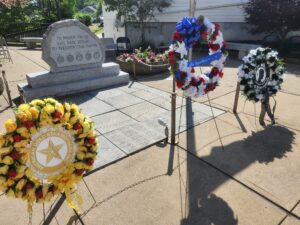 Nestled in downtown of Barnesville at intersection of North Arch St/E Main St is the Veterans Plaza. Visitors are welcomed to remember and honor those that served to protect our country. Overlook Plaza, overlooks the railroad tracks above the B&O Tunnel.
Barnesville Memorial Park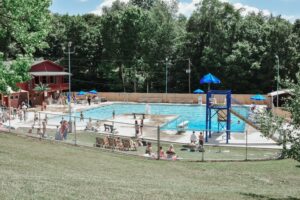 The park contains something for everyone features: Various shelter houses, Albert S. George Youth Center, Three lighted baseball fields complete with concession area and covered grandstand, Hiking trails, 12-Acre Park Lake, Lighted basketball courts, Lighted Tennis Courts, Volleyball Court, Batting Cages, Jr. Olympic Size Swimming Pool, Amazing Playground, Amphitheater & Gazebo, Picnic Areas, and a Group Camp with Cabins.
Address: 130 Fair St, Barnesville, OH 43713
Phone: 740-425-3012
Official Website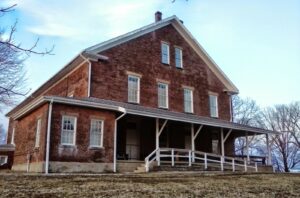 The plain federal-style brick building seats 1,500. It was built in 1878 to house the Ohio Yearly Meeting of Conservative Friends. The Stillwater Meeting was established due to the great tide of Quaker migration that swept up from the Southern states after 1800 as Quakers sought to raise their children in new lands free from the evils of slavery. In 1808 Stillwater was elevated to the status of "monthly meeting," which gave it more control of its affairs and included responsibility for other preparative meetings, which began to develop around Barnesville. This was the year that Barnesville, until then a wilderness, was laid out and its lots offered for sale by James Barnes, a Quaker. The members of the Ohio Yearly Meeting built the structure in 90 days for $9,000. A grand gathering of 1,500 people attended the first meeting in the new building. Like most old meeting houses, it is divided into two identical parts, one side for the women and one side for the men. The building, on the National Register of Historic Places, contains a Quaker Heritage Museum. Open by appointment.
Address: 61826 Sandy Ridge Rd., Barnesville, OH
Phone: 740-758-9080
Official Website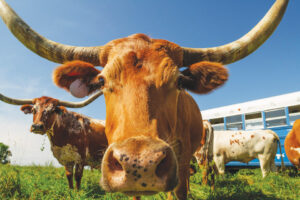 Tour a Working Cattle Ranch at Dickinson Cattle Co. A unique narrated ranch bus tour of DCCI is now provided for guest with groups of 10 or more, by appointment, from April through October. The 75-minute interpretive Longhorn Ranch Tour includes close up viewing of Dutch BueLingo, Texas Longhorns and African Watusi cattle herds. The educational, historical narrative includes information on starting your own herd, conservation, wildlife, modern ranch practices and family entertainment. Visit our exotic pheasant aviary near the pavilion and parking area. The Longhorn Head to Tail colorful Longhorn busses carry guests deep into the near two by four mile ranch to view up to 1000 registered cattle in the Appalachian foothills. Parking is free. The Head to Tails Store offers grass-fed beef, jerky, sausage, 100 percent beef pet food, horn art, hides, leather products, toys and longhorn related products.
Address: 35000 Muskrat Rd., Barnesville, OH
Phone: 740-758-5050
Official Website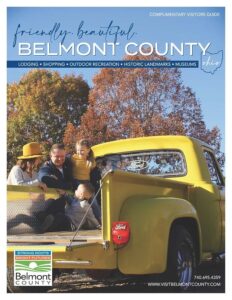 For Barnesville and beyond look no further than the Belmont County Tourism Office. Located inside the Ohio Valley Mall, St. Clairsville. Maintains necessary tourist information related to Belmont County, as well as recreational, cultural and tourist-related activities. If your visiting the area, this is a sure stop you should make to gather lots of information on our local area.
Address: 67800 Mall Ring Rd #485, St. Clairsville, OH 43950
Phone: 740-695-4359
Official Website