ODOT Project Identification Number 108050
The Village of Barnesville, in coordination with the Ohio Department of Transportation (ODOT), invites the public to provide comments regarding the construction of a shared use path in Warren Township and the Village of Barnesville, Belmont County. The project includes constructing a paved shared use path on the abandoned B&O railroad bed and along Railroad Street from E. South Street to Bethesda Street. Additional work includes bike and pedestrian signage, pavement markings on Railroad Street to Bethesda Street Ext., ADA compliant trailhead parking at the historic B&O Railroad Depot, drainage improvements, and rehabilitation of the railroad tunnel that supports E. Main Street and S. Arch Street.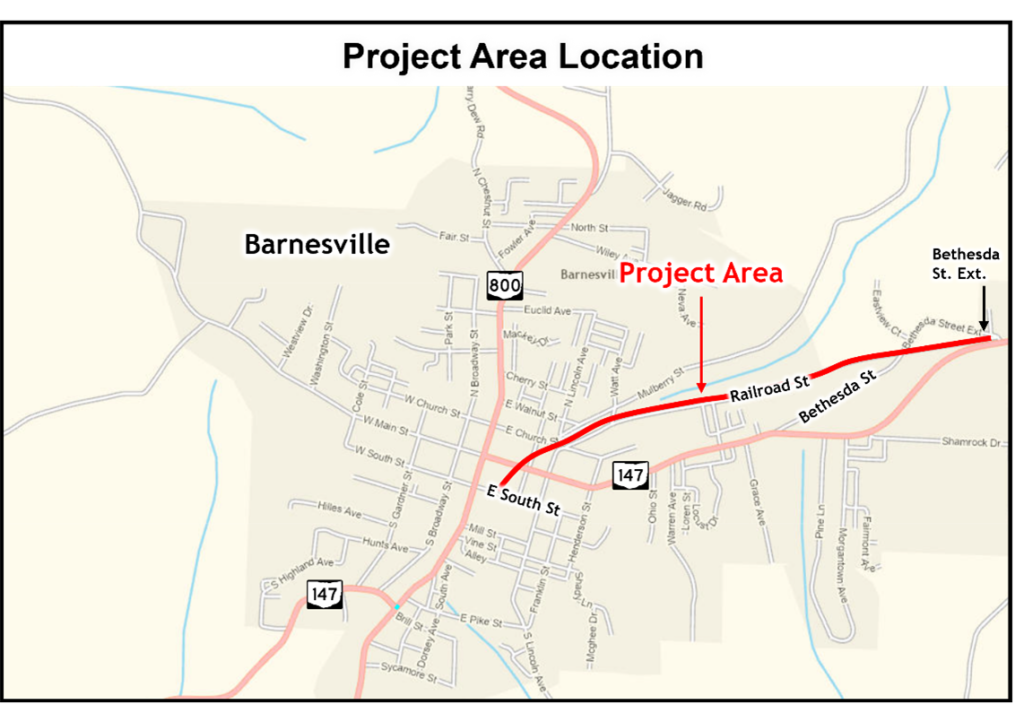 Environmental studies are ongoing; however, it is anticipated that the project will impact a small amount of suitable wooded bat habitat. Any necessary tree removal will occur between October 1 and March 31 to protect these species during their summer roosting period. No right-of-way is anticipated to be needed for the project. Relocation of some utilities will also be required.
No vehicular detours are anticipated during construction. A pedestrian detour is expected to reroute pedestrians traveling northbound to S. Chestnut Street, to E. Church Street, to the existing B&O railroad depot, and reverse for southbound pedestrians. All access to properties will be maintained throughout construction. Construction is currently scheduled to begin summer of 2024 and will last approximately 5 months.
The Village and ODOT welcome your questions and comments. Issues you may wish to comment on include, but are not limited to, the effect of the project on local residents, air quality, the local economy, floodplains, and historic or cultural resources. To ensure your comments may be considered during project development, please submit them no later than August 14, 2023, via the contact information below.
The Ohio Department of Transportation is committed to providing access and inclusion and reasonable accommodation in its services, activities, programs, and employment opportunities in accordance with the Americans with Disabilities Act (ADA) and other applicable laws. To request language interpretation or translation services or a reasonable accommodation due to a disability to participate in ODOT's project development process, please contact Thomas Stratton at 330-308-3992 or thomas.stratton@dot.ohio.gov no later than July 28, 2023. Public participation is solicited without regard to race, color, sex, age, national origin, or disability. If you have any questions or comments about the study, the comment period, or project materials please contact Abby Anacki. 
Lawhon & Associates
Attn: Abby Anacki
1441 King Avenue
Columbus, OH 43212
The comment period ends Monday, August 14, 2023. We sincerely appreciate your involvement!